At Townesquare Dental, we treasure the moments created at our Dentistry from the Heart and patient appreciation events. This is a special time for the whole community in Rigby, Idaho, to come together to have fun, win prizes and help those in need of dental work. Our friendly dentists and team always look forward to putting on these events and sharing special memories with you and your family. Call us at 208-745-8704 for your visit with Dr. Richard George, Dr. Boone Allen or Dr. Garrett Burton today!
Dentistry From the Heart
We are proud of the opportunity to give back and provide dental work to those in need. Check out our video and photos to see what this event is all about! Special thank you to the patients and volunteers who help make Dentistry from the Heart such a success.

Patient Appreciation Events
Check out our photo gallery of the food and swimming event we hosted in 2019. A special thank you to the Bike for Kids organization and Bill's Bike Shop for helping us surprise the Sorenson girls with their new bikes.
Congratulations to Paul Palmer, our $10,000 winner!
Car Giveaway and Patient Appreciation Success Story!
Over 600 patients and their families and friends attended our patient appreciation and car giveaway event, filling three theaters showing Disney's new "Beauty and the Beast." Others enjoyed arcade games, bowling, mini-golf, billiards, pizza and pop.
"Our patients are the reason we are able to get up and do what we love to do every day and we thought having this event and giving away the car would be a great way to truly show them our appreciation," said Dr. Richard George.
Townesquare Dental in conjunction with the Bike for Kids organization gave away another new set of wheels to a group of deserving kids. The Bike for Kids organization is founded on the principles that riding a bicycle is a milestone that every child deserves to achieve. However, riding a bicycle is not easy for everyone, and adaptions are needed for balance and stability.
"It is our great pleasure to surprise four young, local recipients with a bike that is specific to their needs," said Dr. Boone Allen.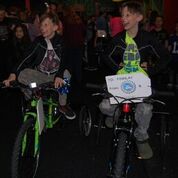 The bike recipients are Dillan and Finnlay, 13-year-old twin boys that both long to be a part of what they see other kids their age doing. They have tried for the past several summers to ride traditional bikes but have lost confidence in their abilities. They are so excited to be able to ride these new bikes with their dad and older brother. These bikes will give them a little piece of independence and a feeling of being just like their peers.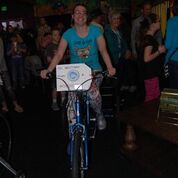 Brittney has a great personality and is very thoughtful. She has a great sense of humor. She enjoys scrapbooking, playing Legos and playing on the computer. She loves being an aunt and loves people. Because of her cystic fibrosis, exercising can be difficult. This bike will help Brittney get needed exercise and enjoy being outside this summer.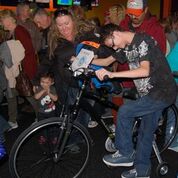 Drayden loves Minecraft and has a very active imagination. He loves to identify cars and bicycles. He is a very good and protective big brother. He is very excited to get a new bike that will not only help him physically but also bring him a lot of joy.
"These kids have the biggest hearts and we are so excited to be a part of this day," stated Kristy Mickelsen, founder of Bike for Kids and a Townesquare Dental hygienist.
LaGay Reiss was drawn as the lucky winner of the new Chevy Cruze. "I just can't believe it. I'm in shock," stated Reiss.
The event was well attended, and our hope is that our patients and those in the community know how much we love serving them.
Other Honorable Patient Appreciation Events